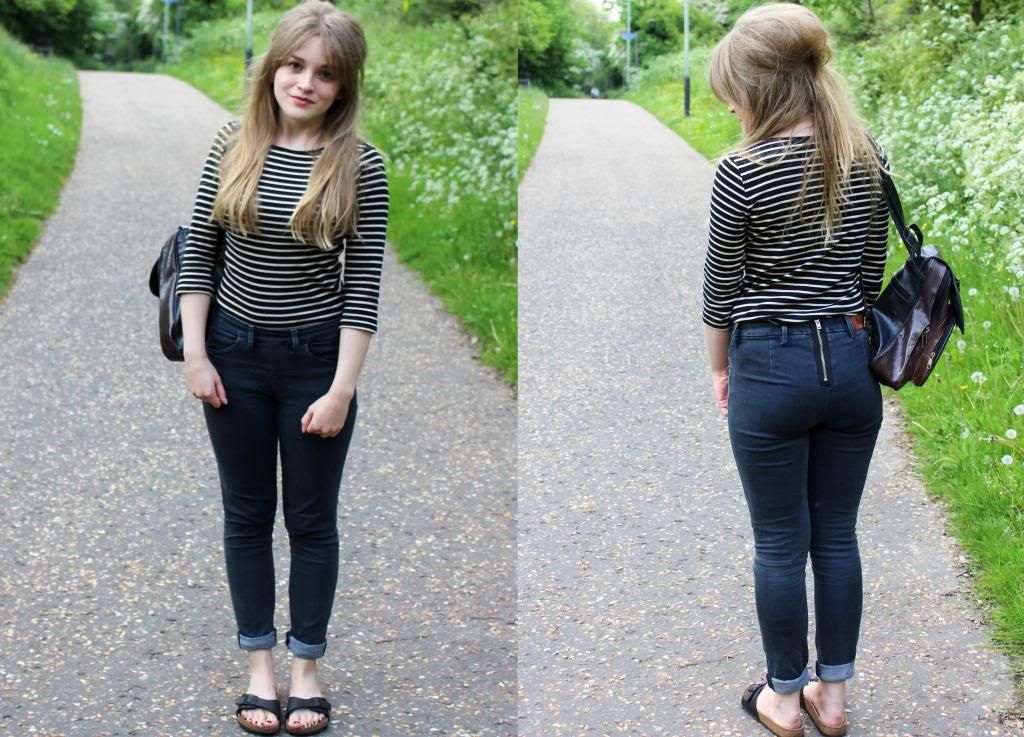 Come the weekend I'm all about keeping things simple and comfortable. I'm not particularly into all things '
fashun'
, so for me comfort definitely comes over style. A simple breton top with jeans is a look that I rock on an all too frequent occasion and I can't see myself stopping any time soon. The top above is from Zara and is just about the most comfortable, wearable piece in my wardrobe. Spots and stripes are my thing and I can always rely on simple staples like this on days where I really can't get my head around putting a more complicated outfit together (most days). My jeans are from Acne (via a very,
very
generous friend of mine) and I've barely taken them off since I got them. They're so damn comfy and I love the added detail of the zip in the back too - although I feel a few more hours worth of squats are needed before I can really do them justice.
I was rarely seen without my Birkenstocks last summer and I can't imagine it will be any different this year, either. They're by far the most comfortable pair of shoes I own and I'm all up for the 'ugly' look, although they suddenly seem to have gained an awful lot of popularity over the past few weeks. Even friends that ridiculed me for wearing them last year have suddenly got their own pair. I haven't tried any of the high street copies that are cropping up everywhere, but I seriously would recommend picking up the real thing if you can; nothing can compare. My bag is a simple brown leather backpack that I picked up in a charity shop a year or so ago. I've never been much of a bag lover, but recently I seem to have built up quite a collection; most of them being from charity shops or car boot sales. Backpacks are my absolute favourites as they're so easy to wear and this one goes with pretty much anything. They don't help to stop me looking so young - but oh well. You can't have everything.