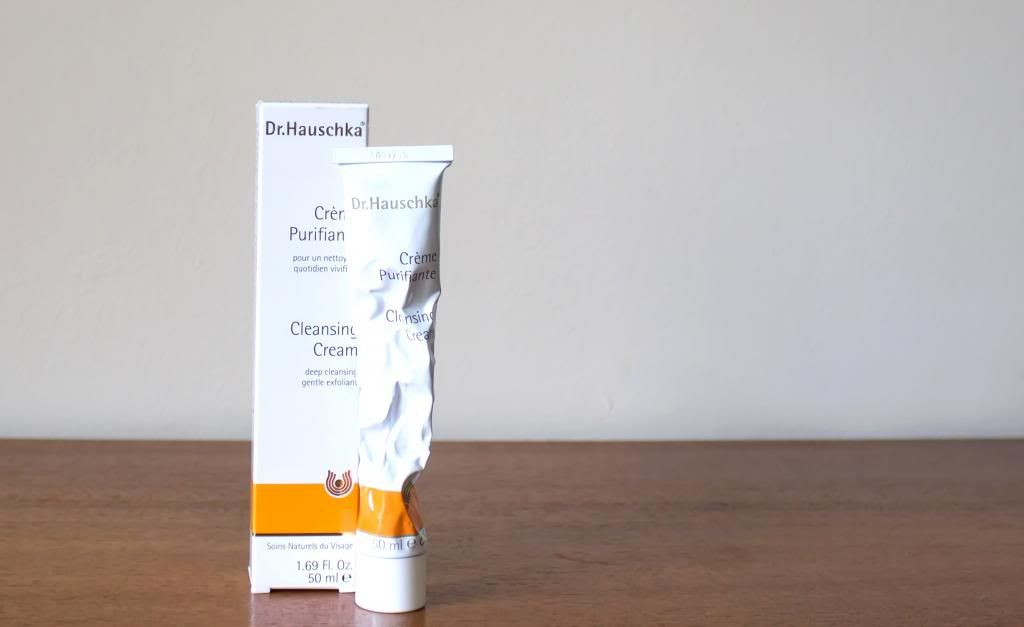 At the beginning of the year my skin was looking worse than ever. I'd initially put the sudden on surge of breakouts, redness and flaky skin down to more than a little overindulging that occurred over the festive period, but weeks after New Year it showed no sign of calming down. I've suffered with bad skin for as long as I can remember, but this time it was becoming incredibly sore and was really starting to get me down. I then took the time to take a step back and really examine my skincare routine. It's something that I'd really advise everyone to do from time to time; especially in the blogging circuit as it's so easy to get drawn in to products without realising exactly what you're putting on your skin. I realised that my ever-changing routine and constant rotation of products probably wasn't doing me any favours. There was nothing stable about how I treated my skin and many of the cleansers, serums and lotions I was using simply didn't seem to meet my skin's needs. I set about researching products that would suit me and looking at things that I perhaps hadn't seen or heard much about, but that I felt were good options for me. I put together a stable routine and have so far seen huge results, so I thought it was about time I focused on one of those products that I've been testing, the Dr Hauschka Cleansing Cream...
It's a cleanser like no other (at least no other that I've tried). I'm sure you'll all aware of my dislike for harsh facial 'scrubs' by now; not least because my skin just doesn't seem to have much of a tolerance for them. I usually hate the feeling of rubbing coarse, ground up chunks of anything across my face, so I was disappointed when I first opened this up and found it to be full of exactly that. I have combination skin that has a tendency to be sensitive to more abrasive products, so for the first few applications I really did proceed with caution. That said, Dr Hauschka recommend using a 'press and roll' technique when cleansing the skin, which makes the whole process feel a lot more gentle and I haven't had any issues in the few months that I've been using it. Using such a method isn't something I'm used to, so it did take a little bit of practice to begin with but I feel as though I'm finally getting there. The consistency can only be described as a paste; again something that I'm really not used to using. The instructions state that you should squeeze out an inch of product at a time but I'd say I use about half of that and find that it's more than enough to cleanse my entire face.
One of the main benefits of this cleanser is that it provides gentle exfoliation as well as deeply cleansing the skin. Before this I was using the Clarins Gentle Exfoliator Brightening Toner; a good product, but one that just didn't seem to suit my skin and wasn't really having a noticeable affect aside from leaving my complexion even more red than it was previously. As mentioned, I normally find that this type of physical exfoliation is too much for my skin, but the press and roll technique suggested is enough to lift off any dead cells without harshly pulling at anything that should stay put. Although I primarily use this as my second cleanse in the evening, I also find that it's great on mornings where I have problems with dry skin or flaking; particularly where any spots have been healing. Using this makes my skin feel soft and smooth and creates a perfect canvas for makeup to be applied without clinging to any niggly dry areas.
After use my skin feels incredibly clean and refreshed. It does have a tendency to feel a little tight from time to time but it's nothing that my usual evening moisturiser doesn't sort out anyway; I definitely wouldn't go as far as saying it left my skin feeling stripped or uncomfortable. It has a funky smell to it, although it is unfragranced so it doesn't bother me personally. It isn't strong enough to linger on the skin once the product has been washed away and it's more than bearable during the time the product is in use. I read somewhere that frequently using this should enable you to see and feel a noticeable difference in your skin; a claim that I can't really account for as I started using a range of new products at the time I picked this up. It's not a miracle worker and my complexion hasn't radically changed, but I'd really recommend it for those looking to incorporate a more gentle option for daily exfoliation into their routine.