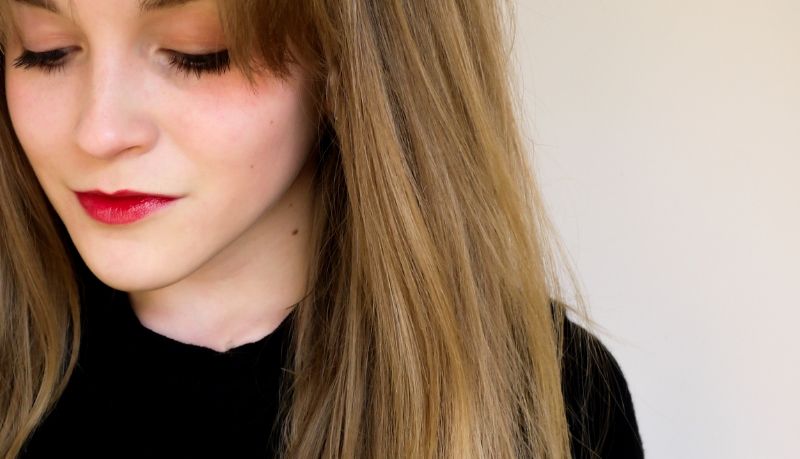 My aversion to bold lips has been well documented on here before; in fact it's safe to say that I'm pretty afraid of using anything other than nude on them. The main reason is that I really dislike the size and shape of my lips; something that is obviously only accentuated by bold, bright colours. A few lovely comments on my blog had heightened my curiosity however, so I reluctantly had a snoop around my makeup collection in the hopes of finding something a little more daring to try. In the end I picked out the Revlon Just Bitten Lip Stain & Balm in the colour 'Gothic', a deep cherry red. In all honesty I can't remember why I bought this one. I used to own another shade (the name of which I can't remember for the life of me) and must have picked this up at the same time, but never actually got around to giving it a proper try. Perhaps I was feeling particularly adventurous for those 10 minutes I was in Superdrug - who knows.
Overall I was left feeling pretty on the fence about the whole experience. I didn't hate the shade when it was on, in fact it was quite nice to do something a little different and the red definitely made me feel a little more sophisticated than usual. That said, the photo above was taking in the morning and before I headed out the door the colour had already been blotted down to a muted red stain; when it comes to this kind of shade I'm definitely one for a more 'barely there' finish.
Will a bolder lip be a regular occurrence? Probably not. But I'm much less afraid to give it a try.